Yin Yang Yoga Retreat - Mallorca
Join us in Cala Figuera – Thursday May 28 to Sunday May 31, 2020
We will immerse ourselves in the beautiful local culture of Mallorca, practice yoga daily, and get an Ayurvedic and Hawaiian Massage to harmonize and purify body mind and spirit!
This Yin Yang yoga retreat is perfect to balance your masculine and feminine energies through active and slow movement yoga classes, pranayama, meditations and massages.
We invite you to take a break around the Pentecost to take fresh inhalations and exhalations on the beautiful island of Mallorca, less than an hour flight from Barcelona to allow you to disconnect and relax for 3 full days. Kids and families are welcome to attend!
A RETREAT TO BALANCE BODY-MIND-SPIRIT!
WHERE: Cala Figuera, Mallorca
The retreat is location in the authentic and traditional fishing village of Cala Figuera. This area is surrounded by beautiful small beaches, forests and a natural environment, where yoga students can truly relax and enjoy the Spanish culture and traditions during the free time or to extend the adventure with our daily optional activities.
YOGA DAILY AND SCHEDULE
The retreat will start on Thursday May 28th at 15h and ends on Sunday May 31st at 16h
This retreat will help you to improve your yoga practice, with Yang practices in the morning and Yin/ Active Yin Yoga in the evening adding pranayama and meditation exercises.
Thursday
10h-14h – Check in
15h – Welcome circle
17h – Vinyasa Yoga Flow
20h – Welcome Dinner
​Friday
08h – Morning Tea
08h30 – Ashtanga Yoga
11h – Buffet Breakfast
12h – Free time – Optional activity (Boat trip to the "Calas")
17h – Ayurvedic walking Massages or Lomi Lomi Massage, Tantra/Yin Yoga
20h00 – Dinner
Saturday
07h – Morning Tea
07h30 – Power Yoga
10h – Buffet Breakfast
11h – Free time – Optional activity (Santanyi market & Hike in the national park)
17h00 – Ayurvedic walking Massages or Lomi Lomi Massage, Tantra/Yin Yoga
20h00 – Dinner
(21h – Lomi Lomi Massage if not done yet)
Sunday
08h – Morning Tea
08h30 – Barkan Yoga Flow
11h – Buffet Breakfast
12h30 – Free time
13h30 – Yin Yang Yoga
15h00 – Closing Circle
16h00 – Departure & Check out
The retreat will give you time to totally relax with an Ayurvedic Walking Massage or a Lomi-Lomi Massage. Both massages are included. We will set up the Lomi-Lomi massages appointment on spot with our experienced therapists.
Ayurvedic Walking Massages (done in the class room)
This massage is taught as part of the Tantra Yoga science, as a routine to remove body's toxins, to maintain a good health and the suppleness of the body during the asanas. It will help moving the meridians and the accumulation of prana, create a positive mind and enhance concentration during meditation. Together in class, we will use our feet for massaging the body, hand massage is used only when it is necessary.
Lomi Lomi Nui Hawaiian Temple Style Massage (private massage)
The aim of this massage is to reach the harmony of the body, mind and soul, and to start a self-healing process through the massage. Lomi Lomi treats effectively stress and tension by letting go of old patterns stored in the body. During the massage, the therapist is the dancer and the recipient is the choreographer so the dance will always be different. It is a full body massage in which the therapist works with unique slow flowing strokes made with his or her forearms and elbows. The intimate body parts are covered with a towel.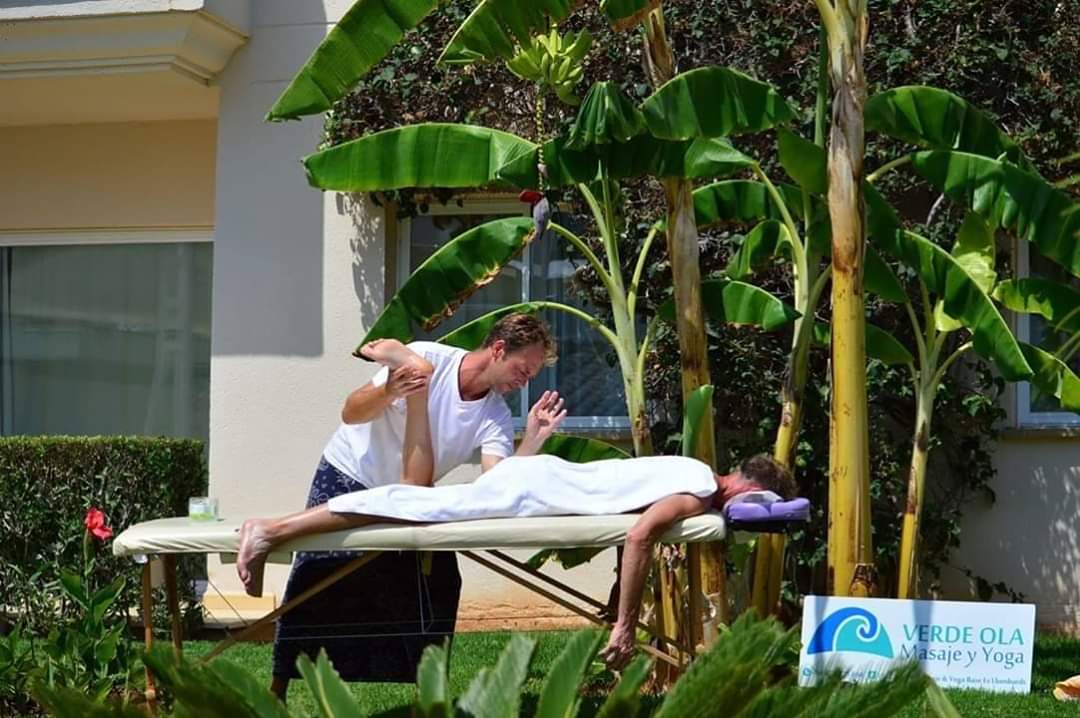 Nature Tour
Cala Figuera – Cala Santanyi – Es Pontás – Es Caló des Macs – Cala Llombards…
Discover the beauty of the southwest coast of Mallorca with awesome caves and crystal-clear waters coves, with the possibility to swim from the boat depending on the weather.
1h30 drive, 27 Euro.
Local Market and Hike in the Mondragò Natural Park
Our first stop will be the local market in Santanyí! Enjoy a good coffee on the plaza, watching the continual coming and going on one of the nicest markets on the island. Take a look around the galleries or stroll around the market stands with their vast selection of local food, art crafts and more!
After the Santanyí market, we will head to the Mondragò Nature Park which is one of the most visited nature reserves in Mallorca. It is the perfect destination to lose yourself in a natural environment that combines a great variety of flora and fauna characteristic of the region with varied landscapes that alternate between the sea and the mountains!
3 hours – 25 Euro
Juan Carlos Ruiz
Juan is Colombian American and teaches mainly Vinyasa Yoga, Hot Yoga and Power Yoga with Ashtanga influence in English or Spanish. He wants to transmit to his students his passion for yoga and the different techniques he has learned the past 10 years.
Lydie Hubert
Lydie is a Swiss native and has always been interested in the science of yoga. During a sabbatical year around the world, she became officially an Ashtanga Yoga Teacher. She has kept studying different styles of yoga through various training and workshops. Throughout the years, she became a yoga teacher in Yin and Tantra Yoga.
Szilvia & Peter
Our Lomi Lomi therapists have studied for years the science of Hawaiian Lomi Lomi massage that is considered to be more than a massage.
Lomi Lomi is a traditional Hawaiian massage that uses a combination of massage techniques, nut oils, and sometimes elements of prayer, breathing and dance to restore energy and soothe the body. It is mainly used to eliminate tensions and relieve muscular contractures, but also harmonizes the whole body and relaxes the mind. The massage will reach all the senses and create an unforgettable experience.
Standard shared apartment with large balcony, ensuite bathroom
Fully equipped kitchen
Living Room with sofa bed + pool & garden views
Cleaning service every 2 days
Bed linen, towels, Plasma TV, safe, air conditioning, hair dryer
Wifi in-room and on swimming pool deck
Shared Room: 450 Euro 
Private room: 550 Euro
* Early bird prices are until March 30th:
420 Euro in shared room
530 Euro in single room
Includes:
3 nights in a beautiful cosy family hotel in standard shared apartment with large balcony, ensuite bathroom, pool and yoga deck (indoor and outdoor)
Yoga Material
Daily yoga classes, morning and evening (Ashtanga, Power Yoga, Barkan Yoga, Yin Yoga, Tantra Yoga), pranayama, meditation, Tibetan singing bowl
Ayurvedic massages practice
1 Lomi Lomi Massage
Vegetarian Breakfast and dinner and morning teas
Organization of external services if you require them
Does not include:
Flights to-from Palma, transfers (15 Euro / trip on request), travel insurances and extra food and activities not part of the schedule.
A €150 deposit is required to make a booking. The deposit is non-refundable. The rest of the payment must be paid 30 days before arrival.
Cancellation policy:
75% charge of total price, 7 -2 days cancellation before the start of the retreat / 100 % charge of total price, 2 days or less cancellation before the start of the retreat.
Special remark: 
Lydie and Juan will come with their 1 year old son. Either Lydie or Juan will be able to take care of other babies/ kids during the yoga session if a family attend the retreat.
Don't miss this opportunity!
Don't hesitate to write us if you have any questions or need more information!